I picked up a little book at the local thrift store a couple of months ago. It's
Giving: Ojibwa stories and legends from the children of Curve Lake
.
Anishinabe children from Curve Lake, Ontario drew and retold stories about "how and why" things happen.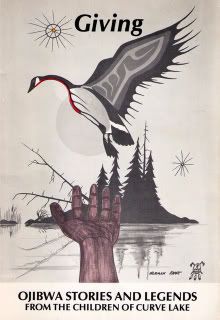 I pulled it out yesterday. They've been asking for poems at bedtime (we'd been reading
Old Possum's Book of Practical Cats
by T.S Eliot) and as I was lacking in the poetry department I thought some short stories would be a good substitute. They loved it. I think the first thing that grabbed them was that the stories in the book had been told by children around their own age. Second, it's all myths and legends and there's nothing they like, Catherine in particular, more then myths and legends. Third, It's chock full of animals.
After I was finished reading a few stories last night, Catherine asked if she could look at it and read most of it before she finally went to sleep. Tonight she finished it off, enchanted with the stories and never realizing that she'd read her first real book on her own.
I pick up things never knowing what the kids will think of them. It's always nice when I get it right.